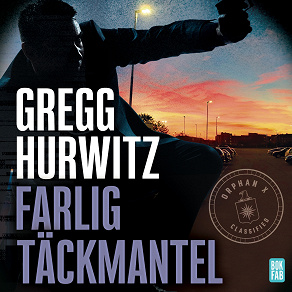 Isbn:
978-91-8031-015-4
Publisher:
Bokfabriken
Category:
Crime & Mystery
Accessible since:
May 2022
Narrator:
Anders Tengner
Magnus Roosmann
Length: 17 hours 9 minutes
---
Farlig täckmantel
Evan Smoak är en man med många identiteter och ett komplicerat förflutet. Som Orphan X var han mördare på regeringens uppdrag i det ljusskygga Orphan-programmet. Han bröt med programmet och antog ett nytt namn och en ny roll – som The Nowhere Man, och hjälper de mest desperata.

Aragon Urrea bor i en liten stad i södra Texas och är dess beskyddare. Han hjälper de hjälplösa och skipar rättvisa åt de förtryckta. Han är också en av Texas största knarkhandlare. Men trots pengar och makt är han hjälplös när en av de mest ondskefulla kartellerna kidnappar hans artonåriga dotter. Utan något annat sätt att rädda sin dotter vänder han sig till The Nowhere Man.

Nu måste Evan inte bara ta reda på hur han ska ta sig in i en tungt beväpnad, djupt paranoid kartelledares ointagliga fästning, han måste också bestämma sig för om han ska hjälpa en mycket dålig man – oavsett den goda saken.
Listen to sample
---