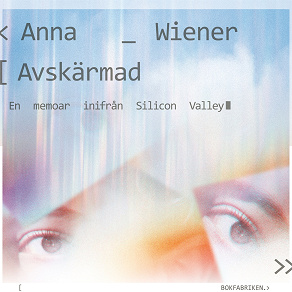 Isbn:
978-91-7835-941-7
Publisher:
Bokfabriken
Category:
Memoirs & Biography
Accessible since:
January 2022
Narrator:
Janna Eriksson
Length: 10 hours 38 minutes
---
Avskärmad - En memoar
En av 2020:s bästa böcker enligt New York Times

Unga Anna lämnar sitt förlagsjobb och beger sig till Silicon Valley där hon hoppas på en framgångsrik framtid på teknikföretagen som formar vår samtid. Hon upptäcker snart att bakom de putsade fasaderna finns mörka hemligheter om männen som äger företagen vi alltid bär med oss i fickan och som genom datainsamling vet mer om dig än du kan ana.

Avskärmad - En memoar inifrån Silicon Valley (originaltitel Uncanny Valley) har tagit USA med storm och utsågs till en av 2020:s bästa böcker på flera håll, bland annat i Washington Post, LA Times, Elle, Forbes och New York Times.

Anna Wiener bor i San Fransisco skriver om Silicon Valley, start up-företag och techbranschen för The New Yorker. Hon har också medverkat i bland annat The Atlantic och The New Republic. Avskärmad - En memoar är hennes debut som författare.
Listen to sample
---