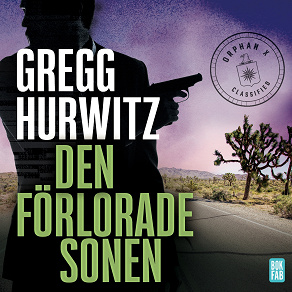 Isbn:
978-91-7835-947-9
Publisher:
Bokfabriken
Category:
Crime & Mystery
Accessible since:
January 2022
Narrator:
Jonas Malmsjö
Length: 18 hours 42 minutes
---
Den förlorade sonen
Evan Smoak togs från ett barnhem och rekryterades till ett hemligt projekt känt som Orphanprogrammet. Han utbildades till mördare, anlitad av regeringen, och var känd för ett fåtal som Orphan X. Han bröt med programmet och blev The Nowhere Man, och skapade ett nytt uppdrag där han hjälpte desperata människor i knipa.

Men landets ledare har gett honom ett frestande erbjudande – i utbyte mot en inofficiell benådning måste han avveckla sin hemliga verksamhet som The Nowhere Man. Nu måste Evan göra det han är minst utrustad för: leva ett normalt liv.

Så får han ett samtal från den han minst förväntar sig. En kvinna som påstår sig vara hans mor. Hennes underliga begäran: Hjälp Andrew Duran, en man vars liv har gått snett, som var på fel plats vid fel tidpunkt, vilket gjort att han jagas av mycket mäktiga figurer. En bror och syster, tillsammans brutala mördare, är efter Duran, och han har ingenstans att gömma sig. Evan är hans enda möjlighet till räddning. Men när de mäktiga männen förstår vad Evan gör, sätts allt han kämpat för på spel - inklusive hans eget liv.
Listen to sample
---