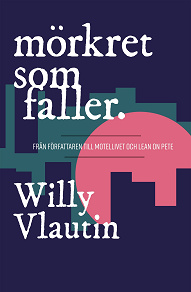 Isbn:
978-91-7742-570-0
Publisher:
Bakhåll
Category:
Novels
Accessible since:
May 2021
---
Mörkret som faller
Willy Vlautins roman Mörkret som faller i översättning av Andreas Vesterlund.

Willy Vlautins nya är en varm och livsnära berättelse, därtill en riktig bladvändare. Det handlar om trettioåriga Lynette som kämpar för att skapa en stabil framtid för sig och sin familj. I det USA som är "the land of the free" saknar Lynette fullkomligt skyddsnät. Hon är trängd från alla håll och har inget att falla tillbaka på. Ändå försöker hon lyckas med det omöjliga - att snabbt få fram alla de pengar som behövs för ordna upp den akuta situationen.

Med sin nya bok har Valutin skapat en glödande roman. Förtvivlad, hjärtskärande, stark.

"Jag kan inte minnas att jag någonsin brytt mig så mycket om en romanfigur som jag bryr mig om Lynette. Du kommer aldrig att glömma henne och inte heller den vanskliga värld hon navigerar genom." Richard Russo (författaren till Empire Falls)

"Lynette fångar mig från första sidan och får mig att hålla andan minst hundra gånger innan jag läst den sista." Megan Abbott (författaren till You Will Know Me)

"Efter att ha läst Willy Vlautin går jag omkring mer sårbar, mer öppen än jag var tidigare. Och samtidigt tuffare." Kae Tempest (Let Them Eat Chaos)

"Mörkret som faller är en nagelbitare om att överleva i sin vardag. En makalös roman som blöder på riktigt, hugger djupt och ändå skänker just den rätta mängden hopp." Ivy Pochoda (författaren till Visitation Street)

"Med Mörkret som faller träffar Vlautin högvattenmärket. Hans gestalter är så äkta att när de blöder hamnar några droppar på mig." Daniel Woodrell (författaren till Winter's Bone)

Vlautin debuterade med romanen The Motel Life (utgiven på svenska på Bakhåll med titeln Motellivet), tätt följd av Northline (Norrut), Lean on Pete, The Free (De fria) och Don't Skip Out On Me (Sviker dig aldrig). Boken som nu kommer, The Night Always Comes (Mörkret som faller) är hans sjätte roman på femton år. Och den hyllas redan nu som hans hittills bästa.

Willy Vlautins roman Mörkret som faller. Översättning Andreas Vesterlund. ISBN 978-91-7742-557-1.
Read sample
(Download)
---