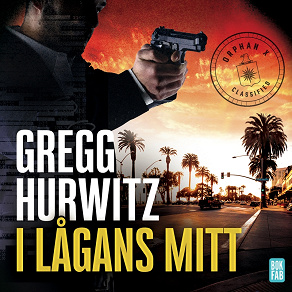 Isbn:
978-91-7835-505-1
Publisher:
Bokfabriken
Category:
Crime & Mystery
Accessible since:
August 2020
Narrator:
Jonas Malmsjö
Length: 15 hours 10 minutes
---
I lågans mitt
Evan Smoak lever enligt sina egna regler.

En gång var han känd som Orphan X. Han tränades till lönnmördare i regeringens topphemliga program och var en av de mest talangfulla - och mest fruktade - personerna i programmet. Men han bröt sig loss och återuppfann sig själv som The Nowhere Man, en mytomspunnen man känd för att hjälpa de mest utsatta.

Max Merriweather är desperat. Hans kusin har blivit brutalt mördad och har lämnat efter sig ett kuvert med en mystisk nyckel. Någon är ute efter nyckeln, och denna någon är så hänsynslös att Max nu själv är i fara. Det som ser ut att vara ett enkelt jobb för The Nowhere Man visar sig dock vara allt annat än enkelt. För varje hot han undanröjer dyker ett värre upp och Evan Smoak måste ta större risker än någonsin medan han närmar sig lågans mitt.
Listen to sample
---