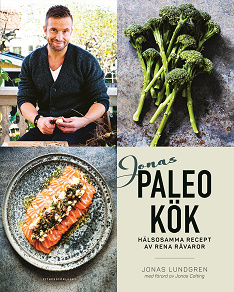 Isbn:
978-91-7424-786-2
Publisher:
Bonnier Fakta
Category:
House & Home
Accessible since:
May 2017
---
Jonas paleokök
I USA är paleo sedan en tid tillbaka den allra hetaste dieten. Nu sprider sig kunskapen om den rena, naturliga maten med så många hälsovinster till Sverige. Här väljer du bra råvaror och lagar mat från grunden, mat som inte bara är bra mot en rad välfärdssjukdomar eftersom den återställer din kropps naturliga balans, utan också smakar som mat ska.
I stället för processade livsmedel och snabba kolhydrater i form av socker och gluten skapar du hälsosamma rätter av fisk, kyckling, skaldjur och kött; massor av grönsaker och rotfrukter, samt bär, nötter och nyttiga fetter. Back to the roots, helt enkelt – fast med Jonas Lundgrens moderna nordiska twist.
Med en kost som är naturligt fri från tillsatser, gluten och vitt socker – och istället är proppfull med vitaminer, mineraler och antioxidanter – ger du dig och din kropp den bästa möjligheten att vara pigg och frisk. Att kunna fungera i vardagen samt orka träna ordentligt. Eller bara ge dina barn de bästa förutsättningarna för ett långt och friskt liv.
Boken innehåller cirka 80 recept med allt från frukostsmoothies och energigivande mellanmål till de bästa vegorecepten, paleo fastfood och gormet samt de allra godaste paleosåserna. Men framför allt enkel, nyttig vardagsmat för dig som bryr dig om din hälsa.
Boken innehåller också ett förord av hälsoprofilen Jonas Colting.
---